Translucent Stone Veneer
Richter Translucent can be back lit for stunning, colourful and visual effects and is engineered with a thin layer of real natural stone, laminated to a translucent fibreglass/polyester resin backing. The light weight and very flexible sheets allow light to pass through for unlimited design possibilities utilising the texture, natural colour and beauty of the stone.

When back lighting is used with various coloured bulbs the ability of the translucent veneer reveal the subtle details and complex pattering found in these extraordinary stones.
Features
100 % Natural Stone Surface
Thickness 1.6 - 2.1 mm
Flexible and can be applied on curved surfaces
Available in sizes up to 2440 x 1220 mm
Easy Transportaion
Easy Handling
Easy installation
Eco Friendly
Translucent Stone Veneer

The above display at our showroom shows the following Translucent slate firstly in its natural form , with down lights and with Back lighting to give the translucent its true effect.
From Left to right
1) Jerra Green (2) Autumn Rustic (3) Indian autumn (4) Copper (5) Tan (6) Multi colour
Click images to enlarge.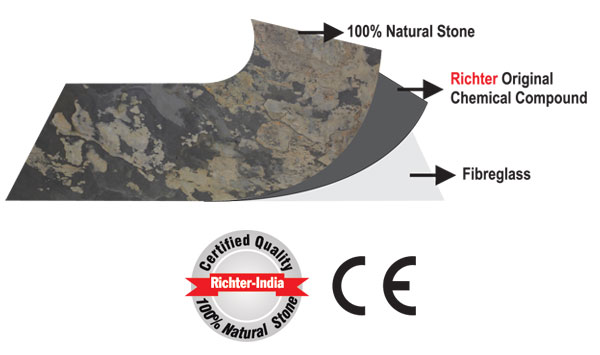 Richter Translucent Stone panels are suitable for many applications. Back lighting ensures they will be brilliant and radiant focal points, regardless of where they are used, (e.g) Bar Tops, Bar Fronts, Office Desks, Counters, Partitions etc.