Stone-Veneer
Richter Stone Veneer 'The Original' stone veneer is a revolutionary new surfacing product created by chemically extracting raw materials from actual quarried slate, quartzite and sandstone slabs into very thin layers of stone. This thin layer of stone is bonded to a fibreglass backing under controlled pressure and heat producing a very strong, yet flexible sheet of stone.
This Stone Veneer can be applied over nearly any solid substrate including wood, drywall, metal, concrete, plywood, MDF, fibreglass, cabinetry and painted surfaces.
Richter Stone Veneer has been tested and developed as an attractive and functioning stone veneer for interior and exterior applications
Features
100% Natural Stone Surface
Thickness from 1.5-2.00 mm
Extremely Flexible and can be applied on curved surfaces
Available in sizes up to 2800 x 1250 mm
Easy Transportation
Convenient Handling
Easy to Install
Eco Friendly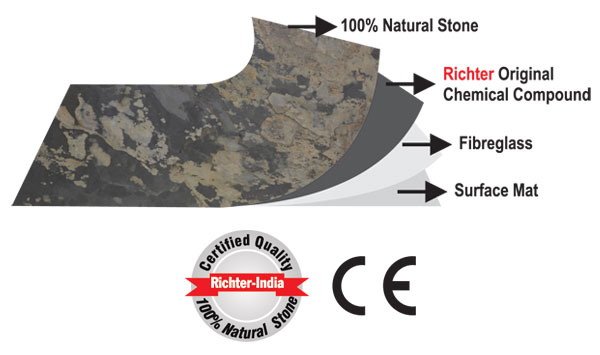 Richter Stone Slate veneer is truly one of the most innovative products designed in recent years and is ideal for both residential and commercial applications.
Due to it's light weight and ultra flexibility it can be used on columns, curves and in unique designs which up until now were unimaginable - a true alternative to traditional slate tiles and stone wall cladding.

MARKETS
Slate Stone-Veneer is available in many colours (14) styles, different backings and thickness suitable for many ideas. The market segment is expansive for this new innovation and for Stone-Veneer there are no limits.
Architects, Interior designers, the Furniture Industry, Shopping Malls, Hotels, Restaurants, Pubs, the Corporate Sector and much more besides.